Beef as it should be,
tender & full of flavour!


Winner of the Surrey Life 2014 Food & Drink Producer of the Year Award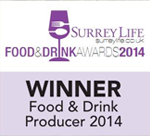 What is special about Longhorn beef?
Longhorn beef is prized by top chefs for its superior eating qualities - indeed, the world-famous, Michelin starred chef, Heston Blumenthal, uses Longhorn beef! This traditional beef breed tastes just like it should and can't be compared with mass-produced meat. Its taste is pleasingly intense, long and lingering. It is the beef of connoisseurs.
Guaranteed
Pasture for Life
certification
We are very proud to hold Pasture for Life certification for our Longhorn Beef. This guarantees the meat comes from animals that have only eaten grass and pasture throughout their lives.

Pasture fed animals fed on a diet of grass and pasture are less stressed, live longer and are more fertile. This means we have no reliance on imported feeds such as soya from South America and mean's our herd have a low carbon footprint.

For more information go to www.pastureforlife.org or look for the Pasture for Life certification mark
Marvellously marbled, tender & succulent
The meat is marbled with fat, important for succulence, tenderness and flavour; the hallmark of beef with superior eating quality. However, there is no excessive laying down of fat.

Today's Longhorns are clean, modern cattle; well capable of producing lean beef with superior eating qualities. We hang our beef for a full 28 days therefore maximising the best possible flavour and reducing moisture in the meat.

Properly hung beef is superb for freezing and will emerge from a spell in the freezer with no loss of texture or flavour unlike immature, wet meat.
Order your
Halliloo Longhorn
beef box
Due to the restrictions of a small herd and the time taken to produce beef of such superb quality, there is a limited supply, although we usually have beef dry maturing and some frozen meat available.

We have various suggested meat selection boxes available or would be delighted to make a bespoke pack for you with any special cuts you require - do not hesitate to contact us for further details and see our price list below.

Call us on 01883 650244 to reserve your box now, it is perfect for home freezing, or send us an email telling us what you need and we'll get back to you.
Our Herd
Entirely grass fed, they roam an area of outstanding natural beauty high on the North Downs in Woldingham, and are encouraged to wander and forage and act just as cows should. In winter, haylage and Lucerne made on the farm sustains them until spring, which sees the return of the sweet grasses and wildflowers that they love so much. Contented cows, free to mature at their own pace, produce meat which is second to none. Indeed, tests on grass fed beef reveal it is up to four times higher in heart healthy Omega's 3, 6 and 9, Vitamins A and E, minerals and "good" unsaturated fats that can help fight diseases like cancer and diabetes.
Our Products
Fillet Steak
£48 per kilo
We can supply cut as steaks or in a whole piece. This is the most tender cut of beef available and is cut from the centre of the sirloin along the back of the animal. Fillet steaks are lean and tender round steaks cut across the sirloin and can be grilled or fried and served plain or with a sauce such as peppercorn, red wine or mushroom. Please call for availiability
Sirloin Steak
£32 per kilo
Pack sizes - approximately 0.5kg - 2 steaks per pack. Sirloin steak comes from the sirloin, located in the mid part of the hindquarters. According to legend, King Henry VIII of England so loved this steak he dubbed it "Sir Loin." Sirloin is a tender steak, perfect for frying and grilling. This cut is not quite so tender as fillet steak but many prefer it for its deep, rich flavour.
Rib Roast - on bone
£26 per kilo
Rib Roast on the bone starts at a 2 rib up to 5 ribs for very hungry people. Often called the King of Roasts, the meat is tender and succulent but not bland. The thick marbling and the parallel ribs, seven in all, contribute to making this a tasty cut. Please call for availiability
Rib Eye Steak
£38 per kilo
Pack sizes - approximately 0.5kg - 2 steaks per pack. Succulent and well-marbled with fat, rib-eye steak is a highly regarded boneless cut from the rib section. The "eye" in its name refers to the round cross-section of a muscle that is not well exercised, so rib-eye steak is very tender. Please call for availiability
Rump Steak
£22.00 per kilo
Pack sizes - approximately 0.5kg - 2 steaks per pack A truly 'beefy' cut of meat with great texture and so full of flavour. Perfect for the barbecue.
Onglet Steaks
£16.00 per kilo
Onglet, or hanger steak, is a little known cut of beef that has been savoured in France for years. Onglet has a loose grain that is very tender, but only if it's served rare. If you like your steak well done it would be best to braise the cut. Please call for availiability
Topside Roast
£16 per kilo
Very similar to Silverside, just as full of flavour, can be cooked a little quicker.
Silverside Roast
£14.00 per kilo
Silverside is a lean boneless cut of meat that comes from the hindquarters of the animal. It is a versatile cut and can be roasted, pot roasted or braised. This is the ideal joint for traditional Roast Beef and Yorkshire Pudding!
Braising Steak
£14.00 per kilo
Pack sizes - approximately 0.5kg. Best with long slow cooking which makes it perfect for casseroles where its texture and flavour will be appreciated.
Slow Roast/Brisket
£14.00 per kilo
These cuts are taken from just below the shoulder and are another cut that is best cooked slowly. It is often cooked in one piece so it is ideal for pot roasts - ask for details of "Bloody Mary Brisket" recipe, its wonderful!
Steak Mince - 500g pack
£12.00 per kilo
So versatile! Cottage pie,"mince and tatties", spaghetti bolognaise, Swedish meatballs, chilli con carne, the list is endless. And so much tastier and healthier with Halliloo Longhorn Beef mince!
Beef Burgers
pack of 4 £6.50
4 burgers per pack If you like your burgers beefy then look no further! Perfect for the barbeque or, if the weather's too cold, try burgers topped with a blue cheese sauce, a baked potato and a glass of red wine.
Longhorn Steak Pies

Our Award winning beef is now being made into pies by Mum and Dads Kitchen in Hampshire. The combination of our award winning pasture fed for life beef, along with their amazing gluten free pastry is a match made in heaven! We currently have Beef in Red wine or Steak and Ale and now extra deep fill!
Ranch steak or stir fry
A lean steak cut from the topside good for marinating, frying or grilling sold in pairs (approx 500g) £16 per kilo
Please contact us for availability
Denver steak
Tender and full of beefy flavour cut from the chuck, perfect for grilling or frying. Try sprinkling with salt and pepper and fry for 2-3 minutes each side sold in pairs (approx 500g) £14 per kilo
Please contact us for availability
Beef sausages
Well made butchers best sausages £6 for a pack of 6
Please contact us for availability
Beef Box
Price List
Contact Us
For more information on any of the products or services offered by Church Farm, please complete the form, or contact us directly at:

Address:
Church Farm, Church Road, Woldingham,
Surrey CR3 7JX

Telephone:
01883 650244
07976 579991 - Babs
0788 909 7114 - Nick

Email:
longhorns@churchfarmservices.co.uk